Understanding Ethiopia
The main take-away
Ethiopia is extraordinary, totally different in so many respects from its neighbours. It's beautiful, fascinating, surprising and so much more. If you are interested in geology, history, wildlife, local cultures, geo-politics or a combination, there is so much for you to enjoy.
Life in Ethiopia is unpredictable, delightfully chaotic and a day often doesn't run to plan (for everyone, not just tourists). Deviations from expectations can be both the best, and worst, parts of a trip in Africa.
So, without removing the essence of what makes travelling in an emerging destination surprising and memorable, it is important to set expectations. This will enable you to judge whether Ethiopia is the right destination for you and - if it is - enjoy the excitement of the journey all the more.
Ethiopia is much less developed from a tourism perspective than the classic safari destinations elsewhere in East Africa. For many people, this is exactly what makes it so exciting. For others, it can be an unwelcome surprise when they are wheels-down in Addis. Setting the right expectations for travellers with vastly different travel backgrounds is one of our core challenges.
We work hard to build the best itineraries tailored to you, using the most suitable local partners, checking carefully that all the necessary arrangements are in place prior to your arrival - as you would rightly expect.
However, despite our best efforts, it is likely that things will - if not go wrong - deviate from the arranged plan when you travel. When this occurs, you have to be prepared to take it in your stride. If you prefer to travel according to an exact schedule with very little room for deviations, you should re-consider whether Ethiopia is right for you.
Don't worry - you are still in safe hands. This is just Ethiopia.
Contents of our guide
To help you understand what it is like to travel in Ethiopia and help set your expectations, we have taken the most common areas where travellers might be heading into Ethiopia with the wrong expectations. We have broken up this guide into the 5 components: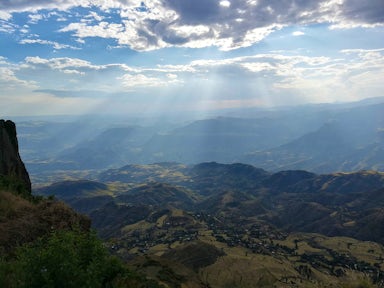 Views at Mequat Mariam, Community Trekking.
1. Hotels
With the surge in Tourism, Ethiopia seems to be sprouting hotels. All the major cities and towns are marked by building sites, scaffolds and concrete shuttering. Many become similar sized, multi-storied, locally-owned, 'international style' hotels aimed at both the business and tourist markets.
Hotels of this type are the mainstay of accommodation in Ethiopia when you are looking for something more than a local guesthouse. They are usually clean and comfortable, but have little local character or distinct style. The service at best will be enthusiastic but inconsistent, at worst, disinterested.
Even new properties age quickly in Ethiopia because maintenance is lacking. When a problem occurs, instead of repairing to a 'good as new' condition, the minimal work will be done, with little eye for detail or accuracy. Repairs will also often be imaginative, resulting in visitors telling us, 'you'll never guess what we saw…'
On the plus side, the quality is improving quickly and the cost of this accommodation remains comparatively low, enabling Ethiopia to be one of the best value East African countries to explore.
What this means for you
Expect maintenance issues in most accommodation outside the top-end hotels in Addis.
Talk to us about what kind of hotels/lodges you have enjoyed (and not enjoyed) in the past, so we can make the right suggestions for you.
Ethiopia has only recently become an emerging tourism destinations, so everyone on the ground is still learning. Be patient and understanding. Travelling in Ethiopia requires a certain amount of forgiveness that you might not grant to more developed tourist destinations.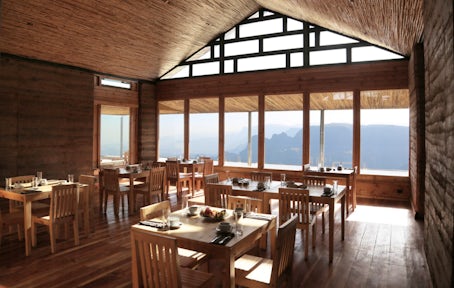 Breakfast in the mountains at Limalimo Lodge.
2. Reservations
Elsewhere in East Africa, tour companies can hold rooms in hotels for a short period in advance of booking so a client can decide on an option knowing a room is available.
This happens in only a handful of cases in Ethiopia. Instead, the world of reservations is a chaotic one, full of misinformation, with a booking only confirmed when secured in writing. Even then, it is not unusual for a property to contact our partners saying that a booking is no longer in place for a number of reasons.
We do our best to make sure this doesn't happen and our local partners have extraordinary skills and patience when it comes to securing the right result for our clients so that you don't see the chaos behind the scenes. But it is important that you understand things can change regardless of how hard we've worked to ensure things are in place. Most commonly the need for change occurs between you accepting an itinerary and the final confirmation. In this case, we will always try to obtain space at the required hotel by using a waitlist and/or book another option at a hotel of the same quality in a similar location.
What this means for you
Be prepared for last minute changes to your accommodation options. We will always endeavour to avoid this, but lodges and hotels can spring cancellations on us with very little notice. When this happens, we will make alternative arrangements for you immediately.
In many cases, we won't be able to confirm rooms until shortly before your departure. Many lodges don't release rooms until 4-6 weeks prior to a given date as they hedge their bets waiting for big group tours to come in.
We will talk through your room preferences with you (noise level, which floor you prefer to be on, distance from the town centre etc.), but travelling in Ethiopia requires a degree of flexibility for unforeseen changes.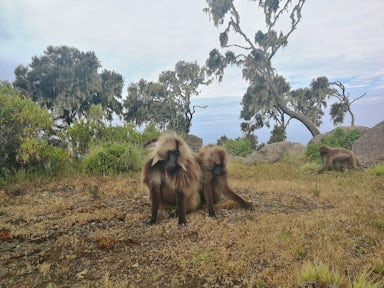 Gelada Monkeys in the Simiens.
3. Guides
The Ethiopian Government requires visitors to use local guides employed by Local Guide Associations when visiting historical sites and national parks. Therefore, most itineraries will include a combination of local guides, one for each of the destinations visited.
This means that you meet a number of characters, each representative of their region, and the financial benefit of your investment is vital.
The local guides are generally enthusiastic and welcoming. While some will speak English (and often other languages) very well, others will only have a basic ability, which can hinder communication. Sometimes, they might have a limited education with an understanding of local history that seldom exceeds the basic. What they will know extremely well are the local myths and legends. These will often be entwined with accepted 'fact' until the join is difficult to see, which can be annoying if you value detail and the objective record. It can be fun if you take it in context.
Over the years, with our local partners, we have developed a little black book of the best local guides and so use these whenever we can, but it is worth mentioning that some of the negative traits (to some) are shared by the best. Sometimes in peak seasons it is hard to secure favoured guides, or they will be randomly allocated, and we can't get those we know.
So, if you value informative and charming guides, able to both make a trip run seamlessly in a tricky country, whilst also leading you through the labyrinth of Ethiopian history, we suggest you invest in an escort guide who will accompany you throughout your tour. Whilst these guides do vary from operator to operator, generally they are professional guides with years of experience who have often studied their subjects of interest like archaeology or history to an advanced level. They know when to give you space; they know just when to appear. In our opinion, a great guide is the difference between a good trip and a brilliant trip.
As ever the more you respect the cultural differences and understandings and the more you empathise, the more you'll learn and see.
What this means for you
Every local guide has their own style and scope of knowledge. Not everything you hear from them will be objective fact. Part of the fun is the blending of fact with fiction. As one of our travellers once said "The glories of the ancient Axumite period were tantalising in their marriage of fact with folk lore. The history was also a fascinating mix of fact and conjecture".
We cannot control which guides you will have in 100% of cases. The guiding associations fail to compensate experienced guides higher than inexperienced guides, which creates a massive incentive problem for increasing the quality of local guiding.
If guiding is important to you, consider paying more for a professional, English-speaking escort guide to accompany you throughout your trip.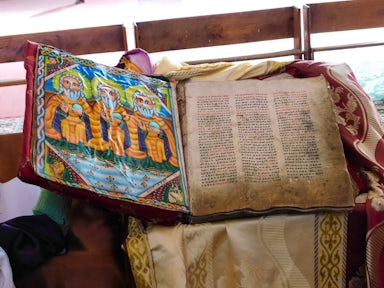 4. Food
We love the traditional Ethiopian cuisine, it's tasty and healthy: the fermented enjera, varied spiced vegetable dishes, and different types of delicious meat. There's a wide variety and choice. But, as with all local cuisines, it is not to everyone's taste and has a particular style.
Ethiopia is a great destination for vegetarians and vegans because fast days on the Ethiopian calendar prohibit meat and dairy. And there are a lot of fast days.
Most restaurants offer two menus: one for traditional Ethiopian dishes and a second for international dishes. The latter will usually be American-Italian, featuring pizzas and burgers. They will be an Ethiopian interpretation of American and Italian classics, but it will be hot, the portions will be generous and usually tasty and filling.
Visitors are usually pleasantly surprised by the quality and variety of the food. When we do get complaints, they tend to be from visitors who have been on safari elsewhere in Eastern and Southern Africa where, even mid-range lodges and camps are now producing food of excellent quality. A common comment from clients fresh from a safari is 'I just don't know how they produce such wonderful food from so little in such a remote place.'
Alas, catering of that African safari standard is not yet available in many Ethiopian hotels; it is restricted to a very few luxury lodges and camps. But the quality is improving quickly, so set your expectations accordingly and be nicely surprised.
What this means for you
If you are vegetarian or can't eat specific meats, there are plenty of vegetarian options available to you no matter where you are in the country. This includes camping & trekking in the Simien Mountains, on community treks, or in the Danakil Depression.
While most travellers are pleasantly surprised by the variety and quality of food available, some find Ethiopia trails behind its more experienced neighbours. Set your expectations accordingly.
Be sure to mix local cuisine with international dishes to keep your diet balanced and avoid an upset stomach a week or so into your adventure.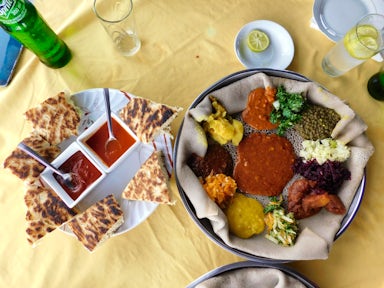 5. National Parks & Wildlife
Ethiopia's landscapes are majestic in their extent and natural drama. The Simien Mountains is as good as any landscape you'll see anywhere in the world. Ethiopia's wildlife is fascinating, amazingly diverse and includes species like the Black-Maned Lion, Ethiopian Wolf, Walia ibex and Gelada monkey that are seen nowhere else in the world.
Sadly, Ethiopia's National Parks network is nothing like the national park services found in other East African countries. Conflict, lack of finance and other resources over the years have resulted in some parks existing largely in name only. Local human communities have occupied formerly protected areas, affecting wildlife populations due to both hunting and the introduction of disease.
As with many things in Ethiopia, this is beginning to change, but the road to an efficient and professional organisation is a long one. This is not a reason to avoid visiting the Ethiopian parks. Quite the opposite. It is all the more reason to visit, but with the right expectations. The landscapes are beautiful and the remaining wildlife is interesting, important and often unique, which means it needs your support desperately. More visitors mean more income, thereby helping Ethiopian conservations in their battle to secure government support and protection.
What this means for you
Ethiopia's national park network suffers from poor management. However, the natural beauty and landscapes of Ethiopia rival even the most impressive national parks anywhere in the world. Much of Ethiopia is highland, which means you don't have to go to a national park to find a breathtaking view.
Travelling to Ethiopia helps support the conservation and improvement of its national parks. Without tourism, there is no incentive to keep these parks alive and thriving.
Understand that Ethiopia is not a classic safari destination, its parks are wilderness destinations offering some of the most impressive landscapes in Africa where unique, often endemic, wildlife can be found.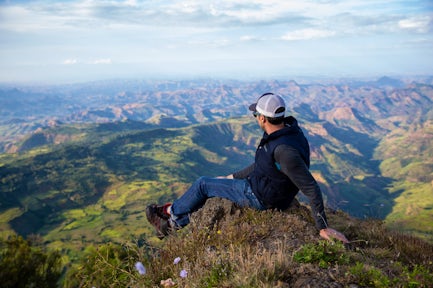 Popular Trips to Ethiopia
How Can We Help You?
We've hiked up Erta Ale, swam in Lake Afrera, and carefully wandered around the acidic springs at Dallol. We have a network of trusted partners, and all of our specialists visit Ethiopia every year. We'll talk through what it's like travelling in the Danakil Depression, design your perfect itinerary, and make all of your travel arrangements for you.
Talk to a Specialist
Ready to plan your Ethiopia adventure?
1
Listen
We'll spend some time listening to your aspirations, then discuss the kind of experience that might suit you.
2
Match
Next we'll discuss the options, shortlist the best trips for you and present you our impartial recommendations.
3
Reserve
We'll place a 24 hour hold on your preferred option - without obligation - whilst we talk through the details.
Whatever your budget, group size, length of stay, preferred activity or appetite for adventure, we can help.
+1 315 636-4279