Accommodation in Axum at a glance
One of Ethiopia's most historic cities, Axum houses some of the country's most renowned attractions. Considered by many a city of huge historical importance, amongst the dusty vaults and ancient churches lies some of Christianity's most sacred relics.
You only need a day to explore the main sites, and the best accommodation option in the town is the Sabean Hotel. It falls short of similar accommodation in other towns on the northern circuit, so set your expectations accordingly if you tend to enjoy top quality accommodation.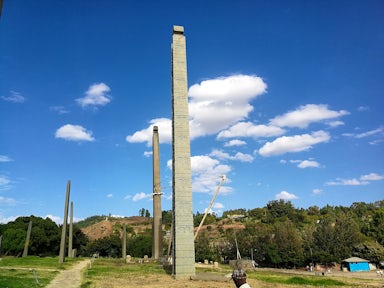 Ancient stelae looming over Axum.
Hotels in Axum
Yared Zema Hotel
Named after a local saint, the imposing blue and pink facade that sticks out in the ancient Axum skyline hides behind it a slightly tired but excellently placed 3-star hotel.
Situated near a number of local bars and within walking distance of most of the local attractions, Yared Zema represents decent value for money considering its central location.
The hotel has a well-equipped gym, a highly rated restaurant, serving a mix of western classics and local delicacies, as well as a range of other facilities.
That said, the hotel has been known to suffer from serious maintenance, and sometimes cleanliness issues.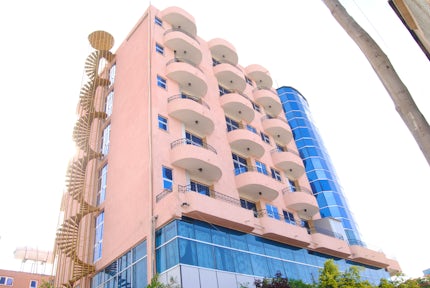 Sabean Hotel
Only a stone's throw away from the Tombs of King Kaleb and Gebre Meskal, the Sabean Hotel offers fantastic views of some of Axum's most beautiful attractions.
However, beyond the amazing views and lavishly decorated ground floor hides a more shabby reality.
Years of use have taken their toll on many of the rooms and amenities in the hotel, with the basic amenities installed in the last century beginning to show their cracks. There is no air conditioning or fans in the majority of the rooms, which can be frustrating in the often humid Ethiopian nights.
Although fantastically located and well priced compared to other hotels in the area, Sabean won't blow you away, but usually does enough to ensure a comfortable stay.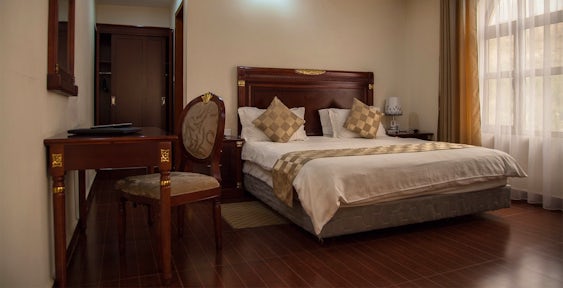 Armah International Hotel
With views overlooking King Bazen's tomb, the Armah International hotel is one of the better hotels in the area.
Featuring an opulent bar and communal lounge, the hotel's sleek modern decor stands out in a city full of colourful colonial era buildings dotted around ancient monuments and bustling backstreets.
From the rooftop terrace, enjoy vistas spanning beyond the city limits.
A continental breakfast is on offer every day, and is usually a mix of the buffet style breakfast common in most European hotels, and traditional Ethiopian cuisine, with sections of the kitchen partitioned to cater solely to those wanting to sample authentic Ethiopian food.
With its central location and fantastic facilities, despite its slightly higher than average price, the Armah International is a solid option in the town.
Popular Trips Including Axum
Ready to plan your Ethiopia adventure?
1
Listen
We'll spend some time listening to your aspirations, then discuss the kind of experience that might suit you.
2
Match
Next we'll discuss the options, shortlist the best trips for you and present you our impartial recommendations.
3
Reserve
We'll place a 24 hour hold on your preferred option - without obligation - whilst we talk through the details.
Whatever your budget, group size, length of stay, preferred activity or appetite for adventure, we can help.
+1 315 636-4279