Historical Monuments
In Lalibela
Lalibela occupies a dramatic position atop wide valleys and surrounded by weather-gouged escarpments beyond which jagged peaks rise. A place of faith, festivals, mystery and legends that will engage your heart as much as your mind.
It is famous for its rock-hewn churches, the exact origins of the churches and their construction are still disputed, which is part of their attraction.
What is certain is that Lalibela is no dusty relic visited by school groups and academics. Those 13 churches form the living, beating heart of spiritual Ethiopia, hosting the most famous celebrations of the festivals of Genna, Timkat and Meskel.
Carved straight from the Earth, Biete Giyorgis in Lalibela.
In Gonder
Known for its remarkable collection of crumbling castles, fortifications and 17th century churches, it's only right that Gonder is often referred to as the "Camelot of Africa".
This small city in the Amhara region of northern Ethiopia was the home to many emperors who ruled the country from the 12th century to the last decade of the 20th century.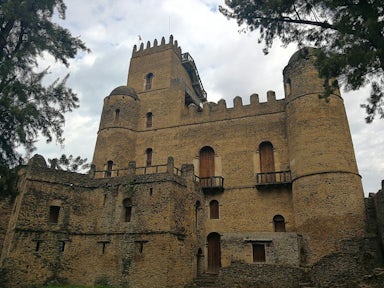 Castles at Gondar.
In Axum
As the home to the Queen of Sheba and the Ark of the Covenant – the storied artefact of Moses' 10 commandments – Axum is one of the oldest continuously inhabited cities in northern African, dating back to 400 BC.
Today, residents of the ancient city seem blissfully unaware of its glorious past that saw the Aksumite Empire thrive as a trading nation and major player in commerce between the Roman Empire and Ancient India.
This World Heritage site is often referred to as "Abyssinia" in medieval texts and is considered the heart of ancient Ethiopia. It is a marvel of obelisks, ruins of castles, undiscovered tombs, beautiful churches and other cultural treasures spanning several centuries and embracing different religions.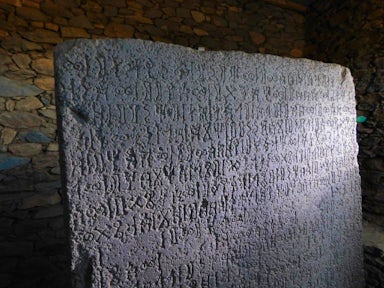 In Bahir Dar
Bahir Dar is one of the most beautiful cities in Ethiopia. Most visitors spend a couple of days here, heading out on boat trips across Lake Tana and a short trip out of town to the Blue Nile Falls.
Located in a depression of the north-west plateau, Lake Tana is home to about 37 islands and peninsulas, where some of the world's oldest churches and monasteries are found. The most famous of these is Kebran Gabriel, believed to have been built in the 14th century and containing a museum with old paintings and manuscripts.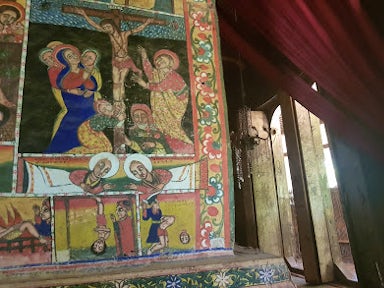 In Harar
Known for its famous array of markets, the famous Hyena Men, ancient paintings and artefacts spanning all cultures, it's easy to get lost in the never-ending maze of the winding streets of Harar.
Harar has a distinct character, and is very different to the most other towns in Ethiopia. It's a little further out of the way, so requires a domestic flight there and back, but those who have a little extra space in their itinerary shouldn't miss out on a visit to Harar.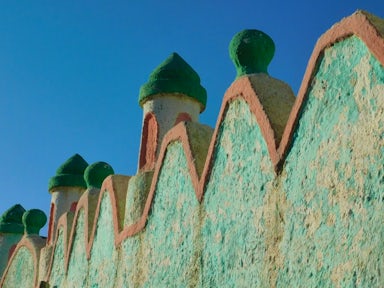 In Addis Ababa
Based on your preferences, there are several museums to visit in the capital. The Museum of the Martyrs (Red Terror Museum), a memorial established in 2010 for the victims of the Marxist Derg regime makes for a fascinating visit.
But the best museum in Addis Ababa is the National Museum of Ethiopia. The home of Lucy, the most famous skeleton of Australopithecus and our oldest hominid ancestor. It might not be the largest or most luxurious museum in the world, but it offers a wide collection of artistic, historical, and archaeological exhibits.
Beyond the museums, Addis is a constantly evolving city, and it's fascinating to see the new structures intertwined with the old.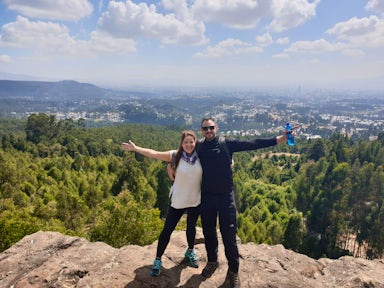 Visit historic monuments on these trips
Ready to plan your Ethiopia adventure?
1
Listen
We'll spend some time listening to your aspirations, then discuss the kind of experience that might suit you.
2
Match
Next we'll discuss the options, shortlist the best trips for you and present you our impartial recommendations.
3
Reserve
We'll place a 24 hour hold on your preferred option - without obligation - whilst we talk through the details.
Whatever your budget, group size, length of stay, preferred activity or appetite for adventure, we can help.
+1 315 636-4279