Lake Afrera
Lake Afrera sits over 100m below sea level in the Danakil Depression, and contains the world's lowest lying island, known as Deset. At the horizon, dormant volcanoes protrude out from Afrera's shimmering green topology, and Afrera's extreme salt concentration results in mounds of salt building up on the lakes shores.
Afrera remains liquid despite the Danakil's relentless heat due to a system of hot springs and streams that feed the lake. It's a principle salt extraction point for the Afar people, with makeshift rectangular basins constructed on the shores of the lake capturing water which soon evaporates in the sun, leaving behind the ever-valuable salt crystals.
Unlike Lake Karum, Lake Afrera can be swum in, and its hypersaline nature leaves you floating weightlessly. It's a refreshing respite on your journey in the Danakil, and there are nearby freshwater hot springs that make for natural jacuzzis to wash the salt off before jumping back into the air-conditioned Landcruisers.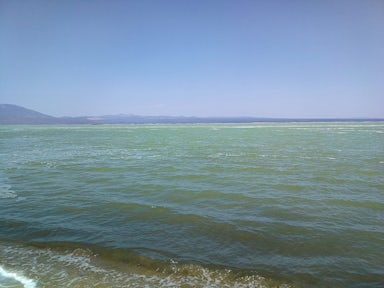 Lake Afrera, the second super saline lake in the Danakil.
Lake Karum
Lake Karum (also known as Lake Asale) looks more like an Arctic desert than a saline lake. The lake-bed is a jet white salt crust chequered in irregular contours that slowly becomes submerged in the clear water of Lake Karum. The transition from the salt pan to salt lake is so gradual that it feels as if the salt pan simply starts to shimmer and shine as it juts off into the horizon.
Despite the nearby wonders of Erta Ale and Dallol, Lake Karum is a real highlight of a journey into the Danakil. A stop-off at the lake won't last more than 20-30 minutes, after which point the shear heat will force you back into the relative comfort of the air-conditioned Landcruisers, but the lake only needs a fraction of that time to leave an unforgettable impression.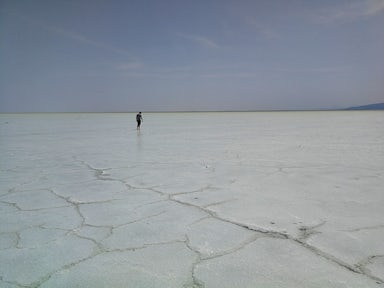 Wandering out on to Lake Karum, Danakil Depression.
Getting There
The vast majority of excursions into the Danakil Depression commence at the Tigrayan town of Mekele where you meet your group and pile into the sturdy Toyota Landcruisers that carry you into the desert in convoy. Your exact route will depend on whether you're visiting Dallol or Erta Ale on day one.
Ethiopia's fantastic domestic flight network makes it easy to access Mekele from all major towns in the North of Ethiopia, or via a connecting flight from Addis if you're coming up from the South. It's a 3-4 hour drive from Mekele to the Danakil that begins on asphalt and ends on lava. Typical excursions into the Danakil last 3-4 days, all of which is done by vehicle, traversing roads, deserts, and salt pans.
Where is the Danakil Depression?
How Can We Help You?
We've hiked up Erta Ale, swam in Lake Afrera, and carefully wandered around the acidic springs at Dallol. We have a network of trusted partners, and all of our specialists visit Ethiopia every year. We'll talk through what it's like travelling in the Danakil Depression, design your perfect itinerary, and make all of your travel arrangements for you.
Talk to a Specialist
Top Trips to the Danakil Depressioon
Ready to plan your Ethiopia adventure?
1
Listen
We'll spend some time listening to your aspirations, then discuss the kind of experience that might suit you.
2
Match
Next we'll discuss the options, shortlist the best trips for you and present you our impartial recommendations.
3
Reserve
We'll place a 24 hour hold on your preferred option - without obligation - whilst we talk through the details.
Whatever your budget, group size, length of stay, preferred activity or appetite for adventure, we can help.
+1 315 636-4279