History of the lake
Formed after a period of constant flooding from the Red Sea, large amounts of mineral salts and deposits settled in the area forming a thick hard crust.
Salt is still mined in the area, as it has been for centuries, being cultivated and cut by hand using traditional techniques. 116 metres below sea level, it is one of the lowest salt flats in the world, and produced some the most sought after salt.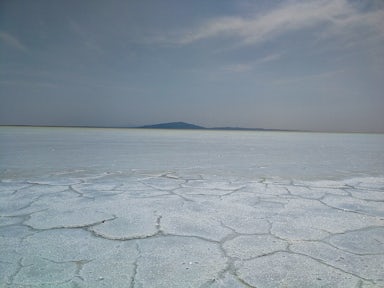 Lake Karum, a super saline lake in the Danakil Depression.
Dallol
Sitting just north of the lake is the former mining settlement, Dallol. Abandoned as the resources that made up much of the local economy dried up, tours of the area often stop in the ghost town.
The sulphur flats found in the area around Dallol are one of the key attractions of the Danakil, with multi-coloured rocks protruding from the long dry geezers that once spewed steam. Once at the lake, an array of mesmerizing intermingling colours found within the semi dried pools glisten in the mid-day sun, creating an almost psychedelic landscape.
Surrounding the lake, rock formations created by millennia of erosion have created some of the most impressive structures in the valley. Appearing almost free-standing, these rocks are all that remains from a broad mountain range that once circled around the lake.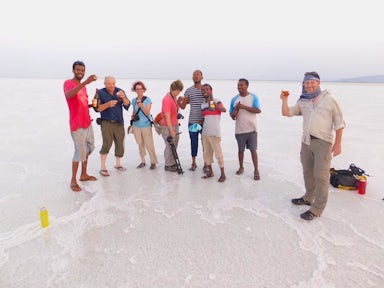 Refreshments on the salt pans by Lake Karum.
Visiting the lake
Lake Asale is one of the two hypersaline lakes in the Danakil Depression. You'll typically spend no longer than 20 minutes here, as the searing heat drives you back into the comfort of an air-conditioned Landcruiser.
Don't worry - 20 minutes is plenty of time to take in the otherworldly landscape, and capture some incredible photographs.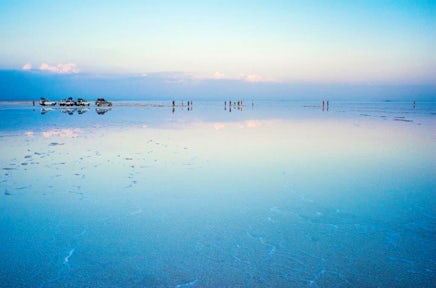 Reflective surface of Lake Karum in the Danakil Depression.
Ready to visit Lake Asale?
Ready to plan your Ethiopia adventure?
1
Listen
We'll spend some time listening to your aspirations, then discuss the kind of experience that might suit you.
2
Match
Next we'll discuss the options, shortlist the best trips for you and present you our impartial recommendations.
3
Reserve
We'll place a 24 hour hold on your preferred option - without obligation - whilst we talk through the details.
Whatever your budget, group size, length of stay, preferred activity or appetite for adventure, we can help.
+1 315 636-4279