When is the best time to visit the Danakil Depression?
The Danakil Depression is famed as being the hottest inhabited place on the planet, with an average temperature year-round of roughly 34°C. The Danakil only receives 100-200 millimetres of rain annually. Regardless of when you go, the region will be hot and dry.
While it is technically possible to visit the Danakil year-round, when you choose to go will make a big difference to your experience. You don't want to find yourself in this alien environment at its absolute extremes.
During the summer months temperatures can climb up to a dizzying 50°C, which can be incredibly uncomfortable for most visitors. Whilst trips during this time are possible, they are most likely going to be private trips, which means it is significantly more expensive.
There is a steady stream of group departures that we can arrange from November to February. Group departures mean the costs of vehicles and support staff is split many ways, making it cheaper for you.
It is important to note that July, August and September make up Ethiopia's rainy season. The rush of water arriving from the surrounding highlands can lead to flooding of the Awash River running through the depression, which makes travel more of a challenge and visitors may not be able to make it to Erta Ale or Lake Afrera.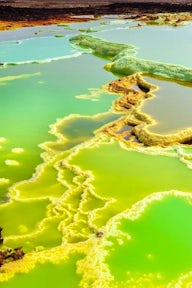 Popular Trips to the Danakil Depression
Ready to plan your Ethiopia adventure?
1
Listen
We'll spend some time listening to your aspirations, then discuss the kind of experience that might suit you.
2
Match
Next we'll discuss the options, shortlist the best trips for you and present you our impartial recommendations.
3
Reserve
We'll place a 24 hour hold on your preferred option - without obligation - whilst we talk through the details.
Whatever your budget, group size, length of stay, preferred activity or appetite for adventure, we can help.
+1 315 636-4279