Flights to and within Ethiopia
To start exploring Ethiopia, you need to catch an international flight into Bole International Airport in Addis Ababa, Ethiopia's capital. From here, you can catch connecting flights to all the major cities.
Heading North: if your itinerary takes you around Northern Ethiopia, you can catch domestic flights from Addis to all the major cities including Bahir Dar, Gondar, Axum, Lalibela and Mekele. Flight times are about an hour from Addis and significantly shorter if you're connecting between cities.
Heading South: if you're exploring the south, you'll want to catch a connecting flight from Addis to Arba Minch. Domestic flight routes are limited in the South and most expeditions south of Arba Minch will be done by car.
Need inspiration? Check out our tours for Brilliant itineraries across the country.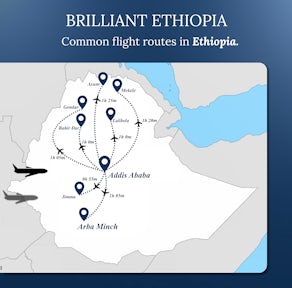 Brilliant says
We strongly advise booking your international flights with Ethiopian Airlines to qualify for a 50% discount on all domestic flights. The price of itineraries increase significantly otherwise, especially for comprehensive trips.
How do I get to Ethiopia from?
There are a number of direct flights from London Heathrow (LHR) to Addis Ababa (ADD) with Ethiopian Airlines. Other airlines offer fewer direct routes and disqualify you from the domestic flight discount. Ethiopia Airlines don't fly from any other London airports, so you're best bet is to depart from Heathrow. Flight times on non-stop routes are around 7.5 hours.

Ethiopian Airlines have scheduled services from Los Angeles (LAX) and Washington DC (IAD), some of which are non-stop. Elsewhere, your flight will involve one or two stops, with the latter half of your journey completed with Ethiopian Airlines. The duration and price depend on where you're coming from but get in touch and our team can help set you up!

Ethiopia Airlines operate scheduled non-stop services out of Toronto (YYZ) (13 hours). From elsewhere, you'll need connecting flights in Europe where Ethiopian Airlines can take over. Get in touch and our expert team can help get you set up.
Brilliant says
Visas can be obtained online or upon arrival and the process is quick and easy. A passport, return flight ticket and around $50 USD is all you need. If you have any questions about getting a visa, our team are here to help.
Popular Trips to Ethiopia