Mezena Lodge at a glance
Popular hotel amenities: restaurant, bar, terrace, garden, lounge areas, pool, spa, tour and airport shuttle services.
Room amenities: balconies, seating areas, flat-screen TVs, WiFi access, private bathrooms.
Location: Just outside of Lalibela.
Room types: bungalows.
Our verdict: a modern eco-lodge with good views and amenities. It's a bit of a walk to central Lalibela and the churches, but you can always get a tuk-tuk!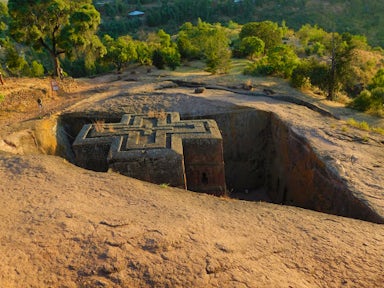 Afternoon glow on Biete Giyorgis, Lalibela.
Why we like this
Mezena Lodge has some of the more spacious rooms available in Lalibela.
Lalibela is a noisy town and Mezena offers the chance to get away from the hustle and bustle of the centre.
The peace and quiet is made that much better by the extraordinary views on offer from the rooms and adjoining verandas.
The lodge is committed to environmental and economic sustainability of the region, all staff are hired from Lalibela and the lodge supports environmental safe-guarding initiatives.
Carved straight from the Earth, Biete Giyorgis in Lalibela.
Rooms
Thirty cosy, stone and thatched-roof bungalows are dotted around the lush confines of the lodge.
The bungalows combine minimalist decor with traditional Ethiopian design and come complete with balconies that have excellent views over the hills of Lalibela.
The rooms have their own seating areas, flat-screen TVs with cable channels, Wi-Fi access and private bathrooms that have both a shower and a bath.
Those with mobility issues should request a room nearer to the lobby, as there are quite a few steps between the lobby and bungalows further out.
Amenities
A range of international and Ethiopian dishes are served at the hotel's restaurant throughout the day. Buffet or continental breakfast is also served here every morning from 7:30am to 9:30am.
There is a bar, terrace, garden and lounge areas where you can enjoy a drink or relax, and a barbecue and fridge in the lodge's common area.
There is a good swimming pool, as well as a spa and wellness centre. Private parking and airport transfers are available, and the property is wheelchair accessible.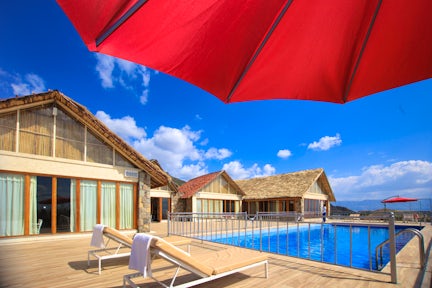 Mezena Lodge in Lalibela
Stay at Mezena Lodge on these trips
Ready to plan your Ethiopia adventure?
1
Listen
We'll spend some time listening to your aspirations, then discuss the kind of experience that might suit you.
2
Match
Next we'll discuss the options, shortlist the best trips for you and present you our impartial recommendations.
3
Reserve
We'll place a 24 hour hold on your preferred option - without obligation - whilst we talk through the details.
Whatever your budget, group size, length of stay, preferred activity or appetite for adventure, we can help.
+1 315 636-4279