Our Philosophy
Our aim is to help you see Africa as it is, in her resplendent glory, chaos and wonder. We want to help tread a delicate balance between witnessing places as they are, ensuring you experience the wonders and challenges, but also to feel comfortable and rewarded for doing so.
We don't want to cocoon you such that you don't experience life as it is, but we do want to ensure you learn, are safe, happy and uplifted by your experiences.
Now that we would never recommend people travel to countries, or places within, if we felt like there wasn't a net-positive impact of that activity to you and those you visit.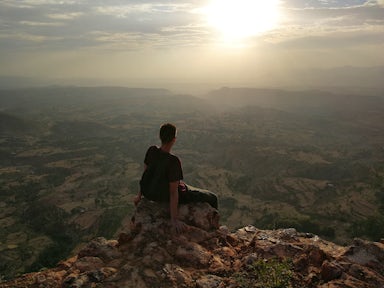 Our thoughts on the ethics of African travel
Contents of our guide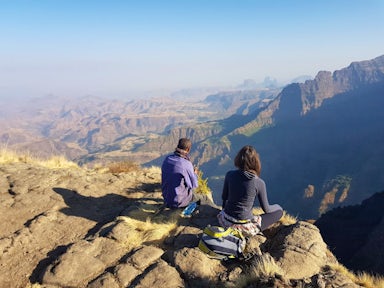 Views from Imet Gogo, Simien Mountains National Park.
Is travelling in Africa ethical?
It can be deeply ethical, or unethical. Both often occur, side-by-side, in modern Africa today.
Africa is the poorest continent in the world. Spending significant amounts of money on food, guides, hotels and flights can, to many, seem to be in stark and unacceptable contrast to the local surroundings or earnings and therefore feel wrong, or misplaced. A $500/night hotel in an area where people live at a subsistence level is, certainly, an ethical challenge and a healthy talking point.
In our experience, however, the contrast should be seen in context. Hotels and lodges employ many, many local staff and traders, who in turn support many family members. A single tourist can have a significant impact. Many of the people you visit in Africa wouldn't want to live like we do, void of their traditions and values, and visa versa. A traveller's expectations, values, and world views can be, and almost always are, very different from those of the people you meet.
Tourism is such a fundamental contributor to Africa's economy. Brilliant would not continue to operate if we weren't confident that tourism has a significant positive impact on the countries visited. We will never encourage you to go somewhere that we don't think enables you to have an extraordinary experience, coupled with that positive impact.
At Brilliant, our purpose is two-fold:
To try to enable our customers to have THE best travel experience of their lives.
To have a significantly positive social and environmental impact.
What does responsible travel actually mean?
Picture a lodge nestled into the natural environment, with unique plant, animal and bird life charming you as you sit in comfort, enjoying sundowners after a day exploring. A passionate, happy, well-paid local guide, born nearby and employed to help you understand the wonder, nuance and history of the region you are visiting, and the creatures you witness.
And others whom you don't see: the hundreds of hands which built and maintained the lodge. The farmer providing vegetables, the supplier of those comfortable pillows in your picture perfect room, the local solar panel business helping provide clean energy, the spread of knowledge about sustainable water use, biodegradable materials and sensitive living that villages nearby adopt and benefit from.
Unique, beautiful, carefully-crafted experiences that leave you able to dip your toe into a world few have the chance to see and remember forever. All in an area that without protection and the high-value impact of visitors, would many years ago have been lost forever.
Africa does this kind of travel better than anywhere else, if you know where to look. We can help you find it.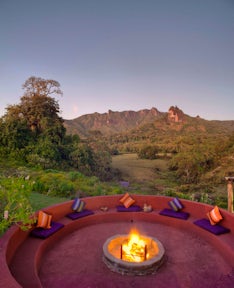 How do I ensure I travel responsibly?
We like responsible tourism because we believe it results in better experiences, and a better impact on the destinations visited. A win-win.
Responsible tourism is, in our eyes, a sensitivity to the places you visit - ensuring fair wages, equal opportunity, minimising negative impact, preventing waste and so on. Responsible travel should be easy. The best destinations - with local employment and ownership, knowledgeable guides, locally-used materials, sustainable sourced energy, careful integration and other features - should be well-marked and offer a much better experience than those which are disconnected from the surrounding environment (unless you're in an airport hotel, in which case perhaps the double glazing is worth it).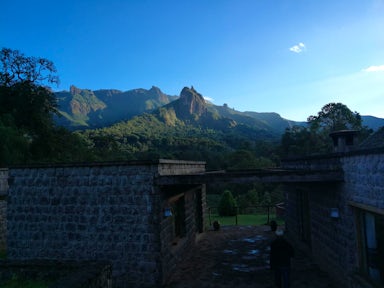 Sun rises over the Harenna Forest, Bale Mountain Lodge
Why tourism is important
In addition to employment, alternative livelihoods and the protection of natural wonders, travel opens eyes and minds to the majesty of our planet and helps us better understand our place in the world.
Of all international aid that has been gifted to Africa and activities to deal with issues within - perhaps none have had as much an impact as opportunity. Mobile phones, internet, mobile payments, information, connectivity and opportunity have lifted millions from poverty. Tourism is at the vanguard of that change.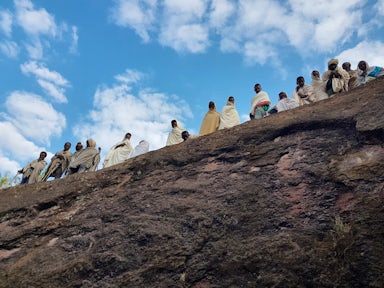 Exploring the underground tunnel networks at Lalibela.
Is flying halfway around the world still okay?
This is a hard one. Many claim we should no longer fly due to the carbon emissions, yet this would limit the many other mentioned benefits of tourism. At Brilliant, we have a couple of simple rules that we try to follow.
We try to understand the value we are hoping to get from any trip, and help our customers notice and capture as much value from a trip to Africa as possible.
We try to offset our flights.
Our belief is that the positive contribution of tourism far outweighs the negative of flying, but we try to be as conscious of it as we can and look for ways to mitigate wherever possible.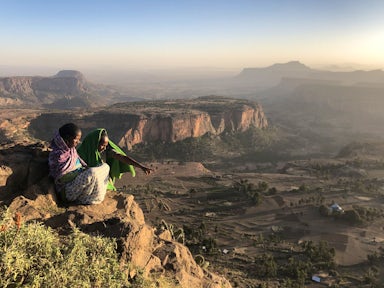 Are people paid enough?
Employment practices differ from region to region. At Brilliant, we try to use operators who employ fairly and who are looked after. Whilst the incomes may differ wildly from your own, we will always try to put pressure on operators and our service providers to pay responsibly.
For us, happy staff means happy holidays. Often there is a wonderful symbiosis between doing good and the positive impact is has on your holiday.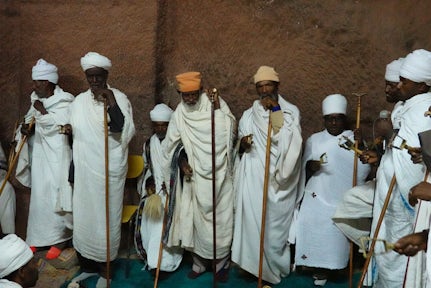 Tipping
Tipping is common in Africa and can cause confusion or awkwardness, particularly when people are unsure about amounts or the custom.
Our advice is simple, don't worry too much about trying to work out what is 'normal', give instead what you think feels right based on the value you've received. Err on the side of generosity, it's highly likely that the recipient will need it a lot more than you do. If in doubt, tip. If unsure of the amount, add what you think would be generous.
However, if you're pushed too hard for a tip, or haven't enjoyed a service. Make sure that this is communicated. Whilst it can be uncomfortable - it is usually worth letting someone know when their behaviour is over-reaching, or if they have under-performed. You will be helping all other tourists who come after you if you do this well.
Whenever you're on Brilliant trip, we'll try to ensure you have guides or guidance on what is best practice. We'll talk you through our 'tipping best practices', and give guidance on amounts before you travel.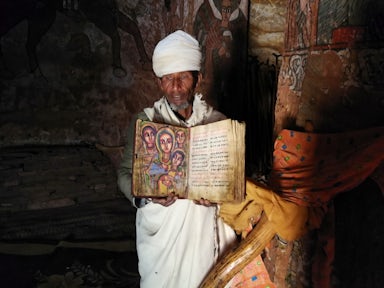 Staff
Employment is scarce in many parts of Africa. Whilst it can feel uncomfortable to be waited upon, or looked after in a manner that might be different from your home country, this is often a good thing and should be encouraged, not avoided. Within reason, remember that more staff means more employment. It's not uncommon to see people doing tasks that might be automated at home - the gentle swish in the early African morning as someone mows a gigantic lawn with a small scythe is a surprisingly common scene in Africa. Carrying water, or manual labour offer dignity. What might seem demeaning or boring to you, could be a source of great pride and feed a family.
However, remember it can be taken too far. Treat other people as you would members of your own family. Whilst they might enjoy tasks that you do not, try to remember to respect and admire the fortitude, wonder and diversity of us human species and to treat others with kindness.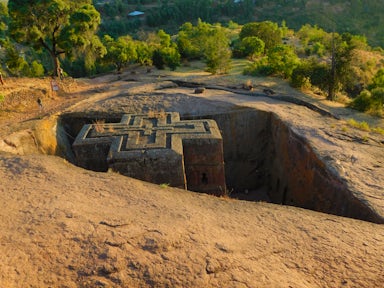 Do what you'd be done by
Remember, there are chequered histories across Africa.
The simple secret to enjoying a guilt-free trip in Africa is to travel with a smile, with kindness, with thoughtfulness and an open mind.
Tread lightly, remain open to the experiences, ask for what you need, be curious and remind yourself of the privilege of being able to travel to other countries.
Start there, and let us do the hard work of truffling out the very best experiences that you can have, to ensure you have a Brilliant and unforgettable trip.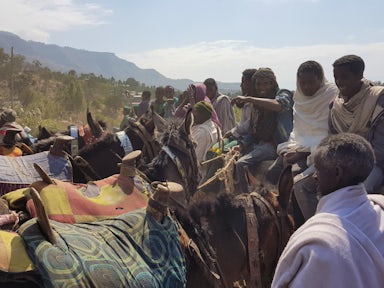 Ethiopian tourism by the numbers
In 2018, it's believed that tourism contributed US$7.4 billion to the country's economy, representing almost 10% of Ethiopia's GDP, supporting over 2.2m jobs and over 8% of employment. That's not insignificant!
Ethiopia was named the World's Best Tourism Destination for 2015 by the European Council on Tourism and Trade and tourism growing very fast - seeing an amazing 48% increase in 2018, the fastest in Africa, according to some sources. Although much of this is returning to previous levels after a few years of political instability that subdued tourism. It's likely that these numbers could incorporate the many transit passengers, as Ethiopian Airlines becomes one of the most important transport networks in Africa, turning Addis into a regional hub.
Aiding growth, Ethiopia is much more accessible to tourism than it used to be. Ethiopian visas are less restrictive and easier to obtain. Many local and national initiatives have been put in place to help improve tourism in recent years, from better roads and infrastructure, to improved hotels. It won't hurt that the president recently won the Nobel Peace Prize, perhaps as much as an encouragement for what's still to come as it is a reward. Tourism growth usually results in better service - although if the growth is too quick, there can be a lag, and strain can be put on existing systems. Brilliant tourism can take time to mature.
Our aim is to help you navigate the best that Ethiopia has to offer and have a Brilliant trip, as more and more facilities flood the market - both good and bad.
For more on past, present, and future of Ethiopian tourism, check out our blog post on the topic.
Our vision: environment & sustainability
We recognise the impact that we, as a travel company, have on our environment. We are committed to mitigating our negative impact, ensuring we remain a net-positive organisation on our planet and its inhabitants.
We strive to be carbon-zero for all of our passengers, and carbon-negative for our own operations.
We are committed to working closely with NGOs, conservation organisations, and charities to support sustainable travel. By doing this, we ensure that as we grow, our positive impact grows disproportionately.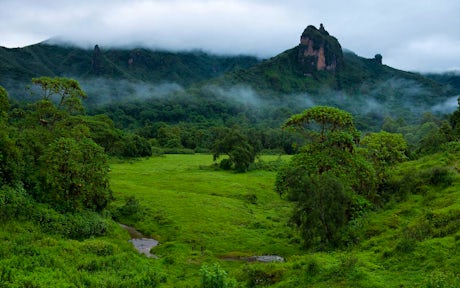 How Can We Help You?
We love helping people plan adventures to Ethiopia, and with a network of local partners and years of experience, we can help you decide when to travel, where to go and what to see.
TALK TO A SPECIALIST
Ready to plan your Ethiopia adventure?
1
Listen
We'll spend some time listening to your aspirations, then discuss the kind of experience that might suit you.
2
Match
Next we'll discuss the options, shortlist the best trips for you and present you our impartial recommendations.
3
Reserve
We'll place a 24 hour hold on your preferred option - without obligation - whilst we talk through the details.
Whatever your budget, group size, length of stay, preferred activity or appetite for adventure, we can help.
+1 315 636-4279