The Asheton Maryam Monastery
Some say it was King Lalibela's first attempt at constructing a church, whilst others attribute it to his successor King Na'akuto La'ab.

In comparison to the extraordinary rock-hewn churches of Lalibela, the architecture of Asheton Maryam may seem relatively simple. However, the true appeal of this monastery is the spectacular mountain scenery in which it is found.
As you make the ascent climb towards the monastery, the views becoming increasingly impressive. At the trailhead, there are views down towards central Lalibela and the rock-hewn churches, the trail then passes though small rural villages, and continues to follow the narrow, winding paths higher and higher until finally reaching Asheton Maryam. The climb is long, but incredibly rewarding.
Lalibela and the surrounding area remain an important centre for Ethiopian Christianity to this day, and Asheton Maryam is no different. The monastery is still in active use, with a priest living there full time to welcome worshippers and visitors. There are many sacred items found at Asheton Maryam, including crosses and a Bible illustrated with colourful, intricate drawings, presented by the priest for visitors to see.
The monastery can be accessed by a roughly 5-hour hike straight from Lalibela, making it a popular goal for a day trip. As the hike can be challenging at times it is possible to do a part of the journey by mule, if preferred. Alternatively, visitors can drive to a nearby car park and complete the final 30-minute climb on foot. By starting the hike from the car park, visitors will then be able to pair the trip with a longer trek onto the escarpment for an overnight stay at the beautiful Hudad Lodge.
Asheton Maryam is one of three popular monasteries in the mountains outside Lalibela, the others being Yemrehane Krestos and Na'akuto La'ab Monastery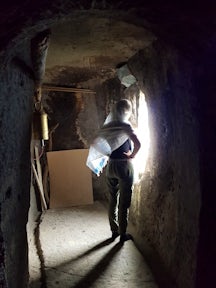 Popular Trips Including Lalibela
Ready to plan your Ethiopia adventure?
1
Listen
We'll spend some time listening to your aspirations, then discuss the kind of experience that might suit you.
2
Match
Next we'll discuss the options, shortlist the best trips for you and present you our impartial recommendations.
3
Reserve
We'll place a 24 hour hold on your preferred option - without obligation - whilst we talk through the details.
Whatever your budget, group size, length of stay, preferred activity or appetite for adventure, we can help.
+1 315 636-4279