Why we like this
Korkor Lodge is a standout accommodation in the Tigray region, and the perfect base to explore the surrounding rock-churches.
Rooms take the form of simple, charming, and well-designed bungalows.
The staggering Tigrayan landscape is the focal point of the lodge, and patios extend from the bungalows offering the perfect place to relax and soak up the views.
The lodge has a direct hand in scientific research in the Danakil Depression.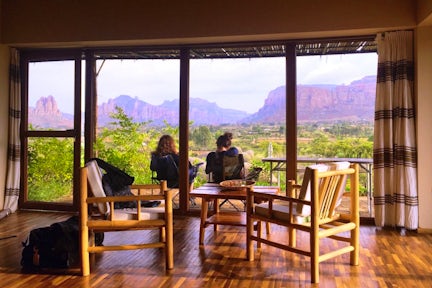 Views from the veranda at Korkor Lodge
Excursions
Tigray is famous for its rock and cave churches of which there are over 140. The most popular and exciting of these churches can be explored within a day and most tours of the region don't extend beyond a day and a half, meaning you'll spend one or two nights in the lodge.
Most of the rock churches are easily accessible, and we can arrange full day or half day excursions that start and end from the Lodge.
Some of the churches are further off the beaten track and require some level of fitness to access them. The most famous of the churches, Abuna Yemata Guh, requires moderate fitness and a stomach for heights!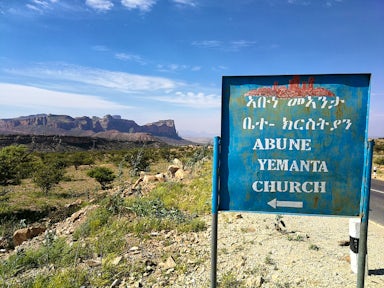 The Lodge
Korkor's design reflects the stunning Tigrayan landscape in which it sits, and the rooms themselves are built from stones mined from the region.
You might think this is a quintessential eco-lodge, and the design of Korkor certainly places the environment first, but the elegance and service of the lodge can't help but create an aura of luxury.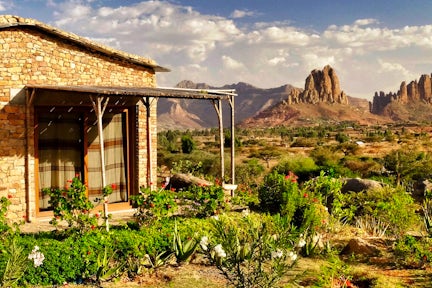 Korkor Lodge is the best accommodation in Tigray
Rooms
Korkor Lodge's modest bungalows offer a spacious living room which doubles up as the bedroom, with a king-size bed taking centre stage and the room flush with natural light as floor-to-ceiling windows separate the room from the adjoining veranda.
Each room has a large private bathroom with all the typical workings.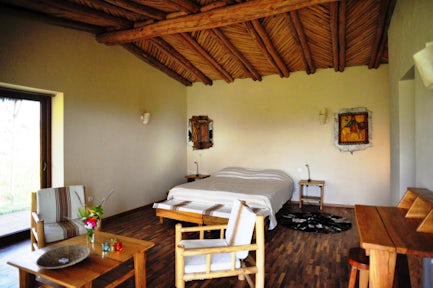 Food and Drink
Korkor Lodge offers full-board service with meals provided by the lodge's fantastic cooks. Options include local Ethiopian dishes as well as international cuisine, which can be enjoyed either at the lodge's restaurant or in the rooms.
If you opt for a full day excursion to explore the rock-churches, the lodge will provide a packed lunch for you.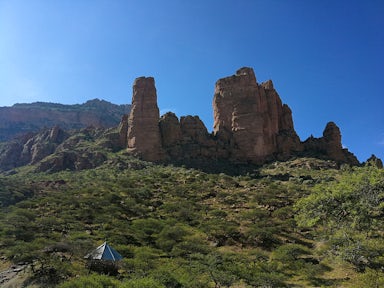 Stay at Korkor with these trips
Ready to plan your Ethiopia adventure?
1
Listen
We'll spend some time listening to your aspirations, then discuss the kind of experience that might suit you.
2
Match
Next we'll discuss the options, shortlist the best trips for you and present you our impartial recommendations.
3
Reserve
We'll place a 24 hour hold on your preferred option - without obligation - whilst we talk through the details.
Whatever your budget, group size, length of stay, preferred activity or appetite for adventure, we can help.
+1 315 636-4279